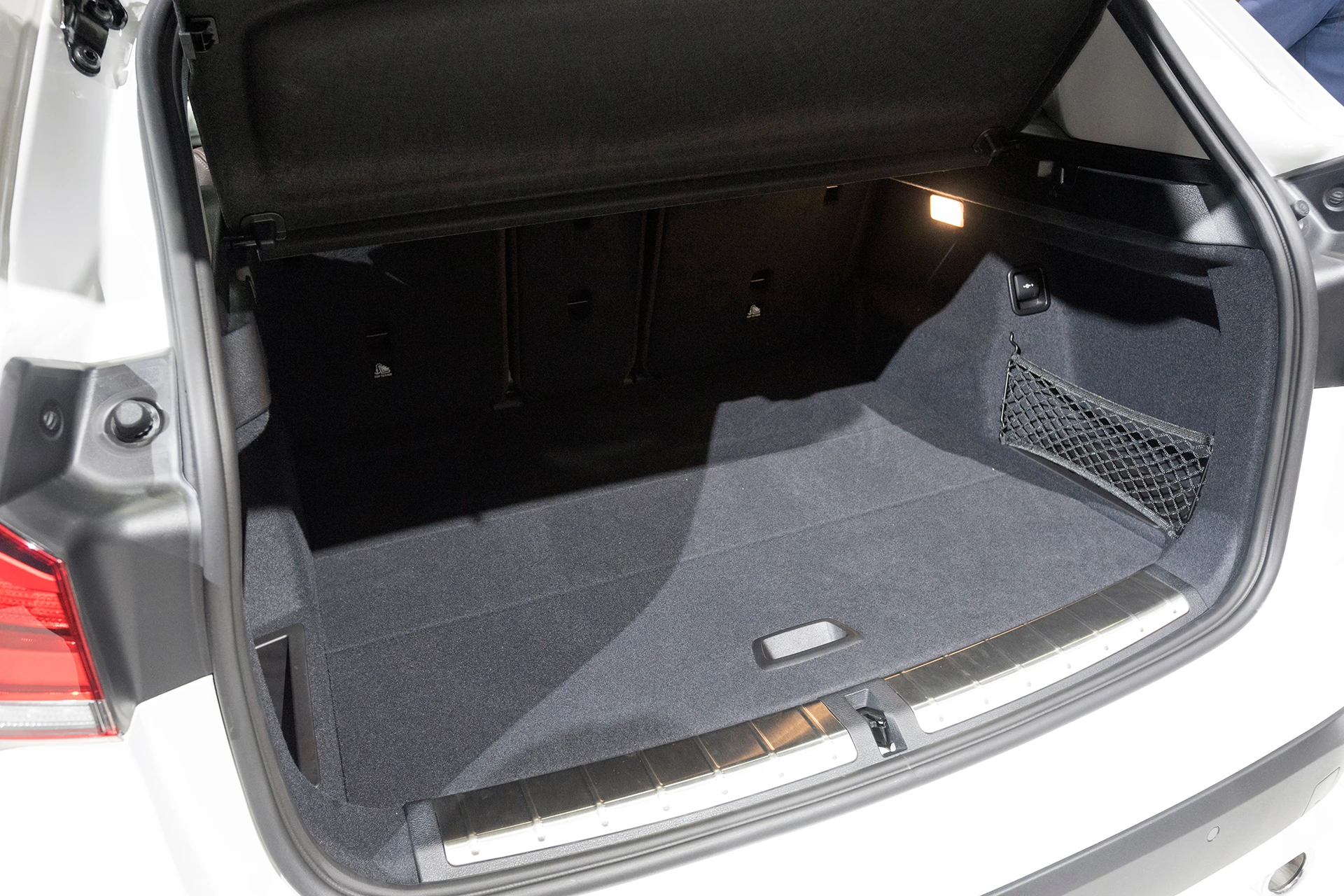 Light-Weight Reinforced Thermoplastic (LWRT)
A low pressure, thermoformable composite of plastic resin and long chopped fiber combined with outer layers as needed for the application (ie. adhesive film, barrier film, tough PP film, non-woven, reinforcing, or just the bare surface.)
A sheet material that is primarily thermoformed into shape.
Typically used in less demanding structural applications where a high stiffness-to-weight ratio is required.
Available in a variety of areal weights from 450gsm (Grams per Square Meter) to 2000gsm.
There are several materials that fall within the LWRT family:
SuperLite® – 55% GF, Weight Range of 500-2000gsm
SuperLite® XLT – 40% GF, Weight Range of 450-1200gsm
XtraLite® – 45% GF, Weight Range of 450-1400gsm
RVXA – 55% GF, Weight Range of 675-1670gsm
FRX® – 45% GF, Weight Range of 550-1600gsm
(Fire Rated Solution. Meets SE/O per SAEJ369 and ASTM E84-Class A.)
Application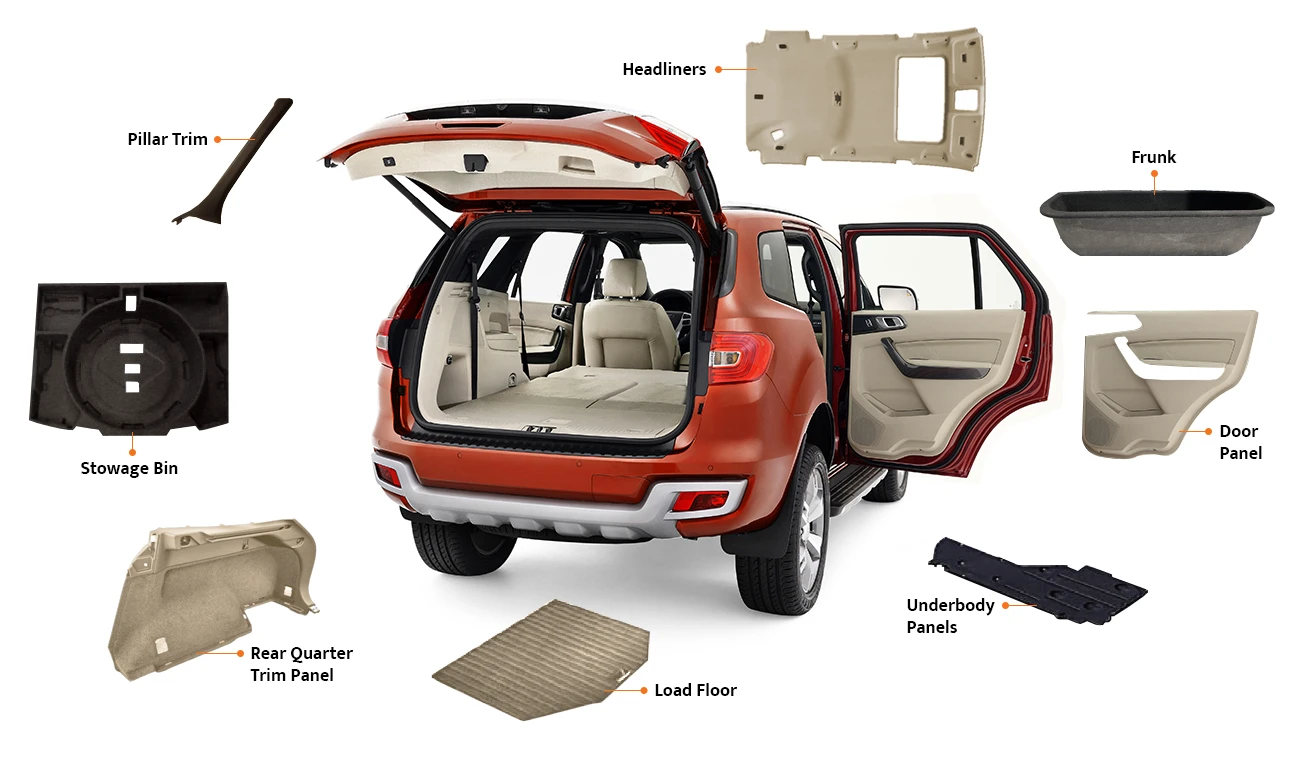 Wall Lamination with Azdel Onboard Composite
The vast majority of RV applications where our composite is found is on a Sidewall Exterior. That is, as an exterior substrate. The image here depicts a typical sidewall construction and its layers. One can infer that our material is hidden behind a visible layer — usually FRP for the exterior or vinyl for the interior décor. Thus, when washing the exterior of your RV, you are not washing our material, but the fiberglass skin that lies over it.
The segment of Sidewall Interior applications continues to grow quickly. More than ever, RV manufacturers are using Azdel Onboard composite for both sides of their walls, much like what is shown here.
Laminated Front, Rear and Slide walls are constructed similarly, but some front walls, particularly those on a fifth wheel, are molded fiberglass caps that are not laminated nor require a substrate.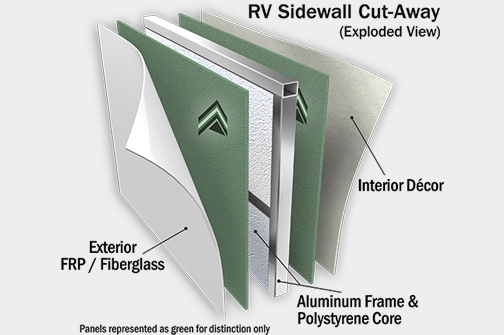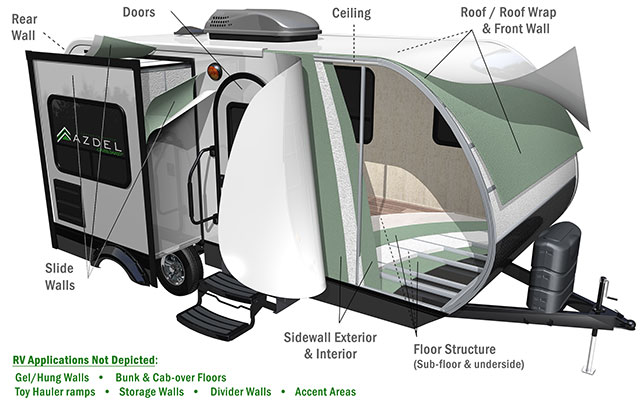 RV Applications
In addition to RV sidewall exteriors and interiors, Azdel Onboard® composites are used in the construction of ceilings, front walls, rear walls, slide-outs, roofs and more! After extensive product development, prototyping and testing with various materials and configurations, we also have a strong, lightweight flooring construction.
As more RV manufacturers continue to adopt our material, we are driven to develop solutions to meet their needs and those of the RV owner.
Floor Application with Azdel Onboard Composite
After over two years of development, trialing and testing, we offer a durable and cost-effective composite floor solution that can be seamlessly incorporated into your existing process or that of your laminator.
The Azdel Onboard composite floor offers benefits similar to those of sidewalls made with our material, and eliminating the risk of floor degradation from mold and rot is critical. This configuration exceeds the benchmarks of common floor construction in terms of flex and puncture resistance. RV makers can simply choose the layer thickness and grade based on the needs of their units.
Click here to dig deeper into the testing that took place during and after this floor's development.
Contact us for more information.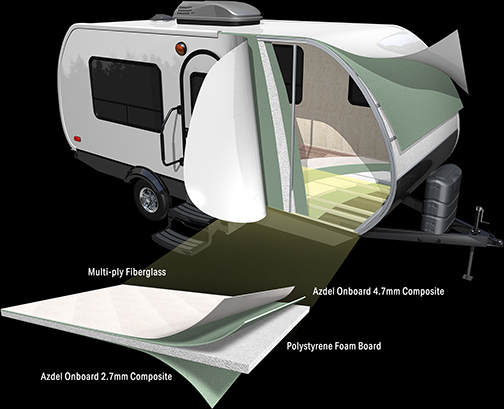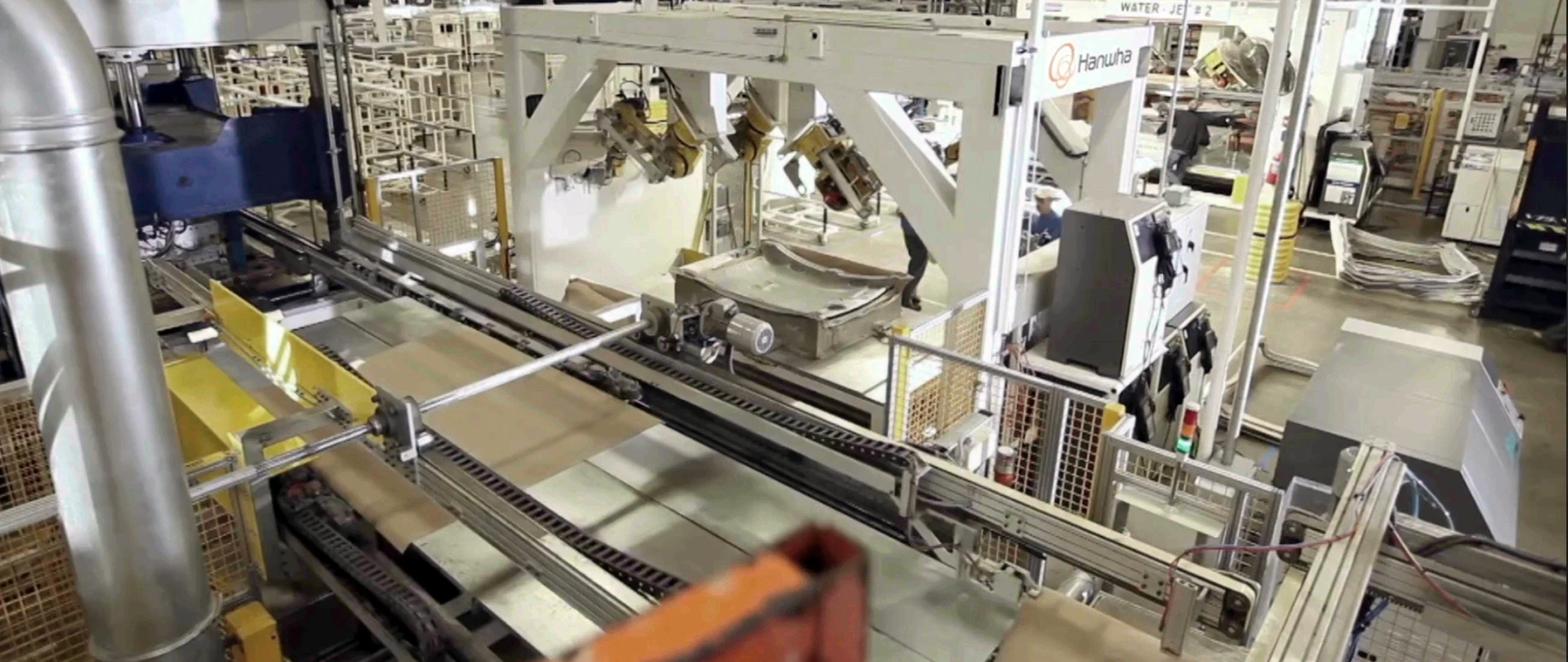 Excellent Strength to Weight ratio

Excellent Degree of Freedom in Design

Superior Shock / Noise Absorption

Excellent Assemblability

Simple Process

Eco-friendly Materials
Low VOC's, No Odor, and Recyclable

Excellent Corrosion Resistance
Why Azdel?

Proven lightweight materials in multiple Markets and Applications
Automotive
Commercial Transportation
Building & Construction
Power Sports & Off-Road Equipment

Wide Range of core weights, core types, and design thickness
Core Weight Range: 450gsm – 2000gsm
Core Types: SuperLite, XLTH, XLTB, XL2 & XL4, FRXA, FRXB, RVXA
Design/Molded Thicknesses: 1.5mm – 12mm

Advantaged molded density vs. Injected Molded Parts
Typical Azdel molded density: 0.3-0.6g/cm3
Typical injection molded density: 0.9-1.1g/cm3
Possible weight savings: 50-60%